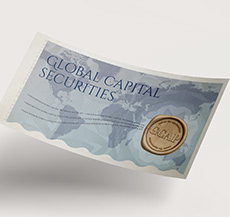 VanEck Blog & Insights
Receive the latest investment news and trading insights
VanEck Bentham Global Capital Securities Active ETF (Managed Fund) GCAP
Fund description: GCAP aims to provide investors with a professionally managed active strategy in global Capital Securities. The fund aims to provide total investment returns, measured over the long term in excess of the Benchmark.

Benchmark: RBA Cash Rate + 3% per annum


Country of domicile: Australia
as at 05-Jul-22
Exchange

ASX

ASX code

GCAP

NAV

$8.63

Units outstanding

2,800,915

Net assets

$24.2M

Number of holdings

55

Inception date1

03-Aug-21

ASX commencement

05-Aug-21
1The date the fund was seeded prior to quotation on ASX.
as at 05-Jul-22
Dividend frequency

Monthly

Management costs p.a.2

0.59%
2Other fees and costs apply, including a fee of 15.5% of outperformance above a benchmark. Please see the PDS for more details.
*The NAV is generally calculated daily after all markets are closed for that day based on the closing price of the securities on the relevant foreign exchange. The NAV is then converted to AUD based on the relevant London WM Reuters 4pm exchange rate. This means, due to Australia's time zone, that the NAV will generally not be updated until around 1pm next business day.
Fundamentals
as of 01-Jul-22
Credit rating

BB+

Credit spread duration (years)

3.67

Interest rate duration (years)

0.06
3-year risk measures

Beta vs. Benchmark

--

Correlation vs. Benchmark

--

Volatility (standard deviation)

--

Sharpe ratio

--
Source: VanEck, FactSet.
Beta is a measure of sensitivity to market movements. Correlation measures the extent of linear association between the Fund performance and the market benchmark index performance. Volatility is the annualised standard deviation of the Fund's monthly returns. Sharpe ratio measures risk-adjusted return, and represents the Fund's return less the risk free rate divided by the standard deviation.
Country weightings (%)
as at 31-May-22
Country

Weightings (%)

United Kingdom

20.5

United States

14.8

France

10.6

Netherlands

8.2

Switzerland

7.3

Ireland

7.1

Germany

6.8

Sweden

4.0

Belgium

3.0

Canada

2.4

Portugal

1.4

Austria

1.1

Finland

1.0

Australia

0.9

Other/Cash

10.7

Total

99.8
Portfolio composition (%)

as at 05-Jul-22
Asset classes

% of Fund net assets

Stocks

0.00

Bonds

93.40

Other

0.00

Cash

6.60

Total

100.00
Sector weightings (%)
as at 31-May-22
Sector

Weightings (%)

Banking Services

69.6

Real Estate Operations

4.6

Transport Infrastructure

4.1

Insurance

3.6

Investment Banking & Investment Services

3.3

Oil & Gas

2.5

Telecommunications Services

1.1

Oil & Gas Related Equipment & Services

0.5

Other/Cash

10.7

Total

100.0
Currency exposure (%)

as of 31-May-22
U.S. Dollar

40.12

Euro

35.36

British Pound

13.77

Other/Cash

10.74