ESGI - One step ahead of Facebook's failure
Facebook's stock price plunged by more than 7% on 19 March 2018, following a backlash against the company after it was revealed that Trump campaign consultant Cambridge Analytica harvested the data of up to 50 million Facebook users without their permission. 
By targeting ESG leaders, the VanEck Vectors MSCI International Sustainable Equity ETF (ESGI) does not hold Facebook as it is an ESG laggard when compared to its peers.  Assessing a firm's privacy and data security should be a part of a true-to-label sustainable portfolio's environmental, social and governance (ESG) screens. 
In a sustainable equity portfolio, including companies based on positive attributes is just as important as having negative screens.
Facebook stock plunges after Cambridge Analytica data sharing controversy
At the time of writing, Facebook had lost more than US$40 billion in value as authorities and lawmakers threatened action and raised the potential for regulation that could scare off advertisers and threaten its monopoly position.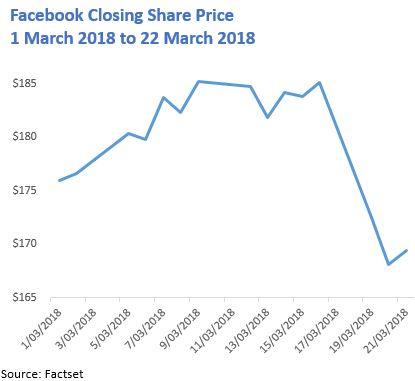 The world's largest tech firms are not all ESG leaders
MSCI is a leading global ESG researcher. The company has a team of over 170 analysts worldwide assessing all of the stocks in its global universe on a 'AAA' to 'CCC' scale according to their exposure to industry specific ESG risks and their ability to manage those risks relative to peers. Well before Facebook's latest troubles, MSCI had warned that risks that data breaches and regulatory action were potential problems for the company.
According to MSCI, Facebook is "exceptionally vulnerable to regulatory actions and user dissatisfaction in case of privacy and data breach. Facebook's controversial data collection and advertising practices have continued to trigger user complaints and regulatory actions."
MSCI says with billions of users globally and a majority of revenue from targeted advertisements, Facebook is "highly exposed to risks related to privacy and data security. The flaws in the company's privacy policies and the ways it collects and uses individuals' data for advertising purposes have long raised concerns among users and been targeted by regulators, particular in the EU where more stringent regulatory requirements will be implemented in May 2018."
MSCI's ESG rating for Facebook at BBB isn't high compared to its peers (see the table below).
While technology companies have taken the investment world by storm, not all of them are ESG leaders. Being big does not necessarily mean a company is an ESG leader.  Facebook is a clear laggard in contrast to the AAA rated companies that are included in the top 10 of ESGI
VanEck Vectors MSCI International Sustainable Equity ETF (ESGI)
ESGI is the only true-to-label, all-encompassing values-based and impact investing international equity portfolio in Australia that combines both positive and negative screens while maintaining a portfolio that is diversified across all sectors.
ESGI does not hold Facebook, because while it passes negative screens (excluding fossil fuels, alcohol, gambling, tobacco, military weapons, civilian firearms, nuclear power, adult entertainment and genetically modified organisms) Facebook is an not ESG leader. 
Analysing ESG factors such as privacy and data security can help investors avoid controversies such as those being faced by Facebook. 
ESG analysis is required in a sustainable equity portfolio so that investors can identify:
companies that are ESG leaders, that should be considered for investment and

companies that are ESG laggards, that should be avoided.
It has been particularly hard for passive managers, who track indices, to include effective ESG research in order to have positive screens and, not just negative ones.
ESGI tracks the MSCI World ex Australia ex Fossil Fuel Select SRI and Low Carbon Capped Index (ESGI Index) which has a positive screen to include only the leading ESG performers in each GICS sector.  As a result ESGI Index has nearly 90% exposure to ESG leaders and no exposure to ESG laggards. The index was developed in partnership between VanEck, one of the world's largest ETF issuers and MSCI, which has been recently voted #1 in 11 categories including 'Best firm for SRI Research', 'Best firm for Corporate Governance Research' and 'Best firm for Indices'.
ESG analysis can help investors avoid controversies. ESGI avoided Facebook and therefore was not exposed when the company's share price crashed last week.  ESGI did not have any exposure to Facebook because, among its sector, it was previously assessed by MSCI not to be an ESG leader and therefore not eligible for inclusion in the index that ESGI tracks.
IMPORTANT NOTICE:
This information is issued by VanEck Investments Limited ABN 22 146 596 116 AFSL 416755 ('VanEck') as responsible entity and issuer of the VanEck Vectors MSCI International Sustainable Equity ETF ('Fund'). This is general information only and not financial advice. It does not take into account any person's individual objectives, financial situation or needs. Before making an investment decision in relation to the Fund, you should read the PDS and with the assistance of a financial adviser consider if it is appropriate for your circumstances. The PDS is available at www.vaneck.com.au or by calling 1300 68 38 37. The Fund is subject to investment risk, including possible loss of capital invested. Past performance is not a reliable indicator of future performance. No member of the VanEck group of companies gives any guarantee or assurance as to the repayment of capital, the payment of income, the performance, or any particular rate of return from the Fund.   The Fund is indexed to a MSCI index. The Fund is not sponsored, endorsed, or promoted by MSCI, and MSCI bears no liability with respect to the Fund or the MSCI Index. The PDS contains a more detailed description of the limited relationship MSCI has with VanEck and the Fund.


Published: 09 August 2018